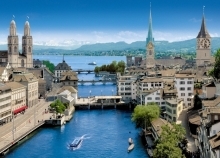 Zurich City Transfers
Low cost Private passenger airport transfers from Zurich city (Switzerland) to all of the popular winter destinations in Austria, Italy, Switzerland, France. In summer, we provide transfers to such popular destinations as Rust (Europa-Park) (Germany), Freiburg im Breisgau (Germany) and Colmar (France).
Use the QUICK QUOTE generator to see our full range of transfers from Zurich with prices. You can get a quote and book your Zurich transfers online and receive an instant confirmation of your booking.
Once you complete your booking you can relax in the knowledge that your transfer will be waiting for you. This saves you time and stress trying to find a taxi at Zurich to take you on to resort.